PV Sindhu has gone to London
Indian badminton star PV Sindhu awarded India a silver medal at the 2016 Rio Olympics.
News18No

Last Updated:November 2, 2020, 4:29 PM IS
new Delhi.
Indian badminton star PV Sindhu made a tweet from his social media on Monday that fans were surprised to see. Sindhu shared a picture by tweeting in which she wrote, 'I am retiring.' However, after this he told that this retirement is not from the game but from the fear and negative thinking which he has been troubled for a long time.
Sindhu told the truth of retirement
Sindhu wrote in the tweet, 'I was thinking for a long time that I should come out with my feelings. I must admit that I was struggling a lot. This is wrong, I know that is why I am writing today. I know that by the time you read this post, in the end you will be confused and surprised. This epidemic opened my eyes, I can prepare for the most powerful opponent, I can play under pressure, I have done it before, but how can I defeat such a virus which is not visible. We have been at home for months and think whenever we go out. During this time, hearing many heartbreaking stories, I was forced to question myself. Denmark Open was the last episode.
– Pvsindhu (@ Pvsindhu1) November 2, 2020
He further wrote, 'Today I announce retirement, from Bachani, I take retirement from negative thinking, persistent fear and uncertainty. Today, I retire with carelessness regarding hygiene and virus. We do not have to worry, prepare. What we do today will depend on what we do tomorrow.
Fans showed displeasure
Some fans did not like Sindhu's way and said that this is wrong. Fans said that such a tweet should not have been given to give message to Sindhu.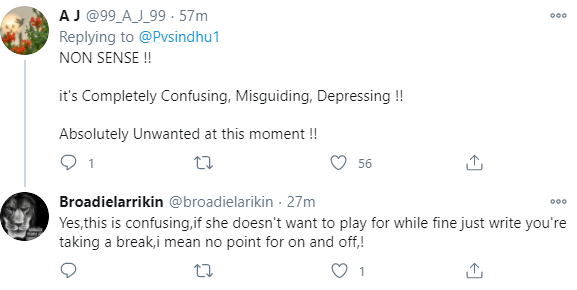 A few days ago there was news that Sindhu's relationship with her family and coach Pullela Gopichand is not going well and that is why she has moved to London. However after this, Sindhu clarified by tweeting that she had gone to London due to her training and there is no dispute with her family or coach.